I.T. Outsource
By outsourcing the I.T. services, you can concentrate on your core and let Shing Fai take care the rest for you. The strong team of experienced engineers and technical consultants provide top quality support services and I.T. solutions to achieve low Total Cost of Ownership.
Each of our senior supporting colleagues has more than 10 years working experience in large organization. We familiar with every system like Windows,Mac,Unix and Linux. We are confident that we can solve your problems as we have a team of certified and experienced professionals with below recognitions:
Dell Storage: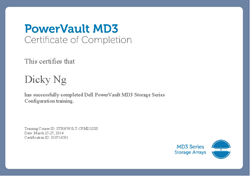 Professional services and customer delight is upmost in our mind, we provide following supporting items to meet customer's need:
24x7 Support
We are more than happy to provide 24hours x 7 days technical support if your service is critical.
30 Minutes Response Time
We provide guaranteed 30 minutes response time for the support tickets received.
4-6 Hours Onsite
We can arrange engineer onsite within 4-6 hours same day and most of the issues can be resolved in 6 hours time.
We provide following professional I.T. services:
Server/Desktop Support
On site and call-in technical support
Project Management
Infrastructure design & implementation services
Security Solution
System Migration
Database Consultation
SAN Migration
Virtualization
Disaster Recovery Services
Server Implementation (x86 Server, HPUX, AIX, SUN, Blade, SAN, DAS, NAS)
Network Implementation (Cabling, Switches, Routers, Firewall, LTM, IPS, IDS)